A Million Ideas – The Bendix Headquarters
Our latest Instagram Meet Up landed at what was originally the headquarters of The Bendix Corporation – a massive industrial and office building on the West Side. This meet up is part of the #MySouthBend campaign, a collaboration between local government and creatives to use Instagram and the City's website to tell stories about real life in South Bend.
In 1924 Vincent Bendix formed The Bendix Corporation, ten years after becoming a millionaire off his invention of an automative electric drive dubbed "The Bendix Drive." In the decades that followed, the corporation would grow to be one of South Bend's largest and most renowned businesses.
First up, a healthy dose of Art Deco in and around the once-bustling telephone booths:
Studebaker's introduction of Bendix four-wheel disc brakes on the '63 Avanti was monumental. Until this point, drum brakes were standard issue on all American cars. This was partly due to cost, but largely due to the fact that nobody had developed disc brakes with the self-energizing capacity of drum brakes, making it difficult to press the brake pedal hard enough to stop. Innovation at Bendix broke through this barrier, calling for a campaign (poster above) boasting this local collaboration on what was currently the world's fastest car—Studebaker's Avanti. This poster is a gem for anyone intrigued by the companies of South Bend's past.
I recently released a series of three classic Avanti advertisements re-imagined as ads for INVANTI, a burgeoning startup generator in South Bend. I'm wearing one piece from the collection above, you can view the others here: Avanti Dusk, News... Nights
After exhausting the entryway of photos, we took to the stairs:
Once on the second floor, we walked past ornate water fountains to what was originally a theater, both for performances and motion pictures at different stages of life. A now walled-in stage, back room mechanicals, rectangular openings for projectors, and striking ceiling all point back to this original purpose: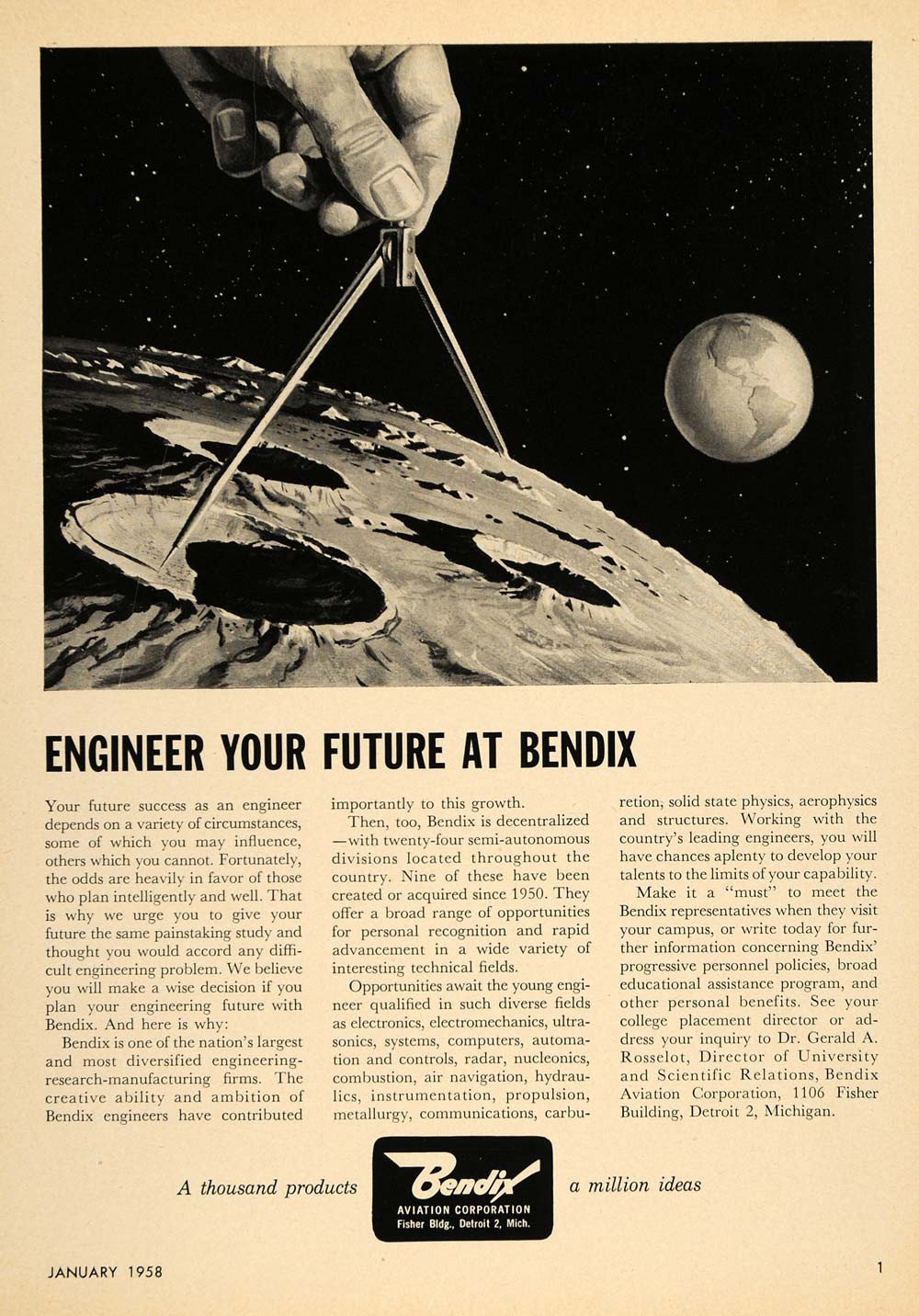 A thousand products, a million ideas.
Bendix took pride in inventing and/or manufacturing a diverse line of products. Ads, like the one on the left, frequently used the "thousand products, million ideas" line in association with the company logo. This recruiting ad builds on the idea reading:
"Your future success as an engineer depends on a variety of circumstances, some of which you may influence, others which you cannot. Fortunately, the odds are heavily in favor of those who plan intelligently and well ... We believe you will make a wise decision if you plan your engineering future with Bendix. And here is why: Bendix is one of the nation's largest and most diversified engineering-research-manufacturing firms. The creative ability and ambition of Bendix engineers have contributed importantly to this growth..."
Finally, the third floor. Home to executive office suites including that of Vincent Bendix, the corporation's namesake founder. Art Deco influences from the entryway continue to pop up on the original elevator doors, and old wallpaper illustrated with a lavish "B" occasionally emerges from behind a coat of white paint.
The true beauty of this third floor is in the walls—dark, symmetrical hardwood in the most senior offices, and rectangular plaster detailing in others. On top of that, consider the personal washrooms in each office and you've got a workspace unlike any other in South Bend (save the Studebaker Administration Building on Main).
Unfortunately we cannot confirm any hidden passageways or stashes of cash, but we did find a well disguised cabinet: